Last Christmas Caleb got a live butterfly garden for a gift.  The idea with this garden is that you request some caterpillars from the company, and they mail them to you.  You watch the little caterpillars grow in size and become butterflies just like the Hungry Caterpillar.  Since Easter is coming soon, Yvonne thought it would be fun to teach the kids about life through the life cycle of a caterpillar/butterfly.
We didn't get any pictures of the caterpillars in caterpillar form.  Somehow during the week, we just never took a picture.  But it's awesome watching them grow from itty bitty caterpillars to big fat caterpillars.  The pictures will have to start at the chrysalis stage.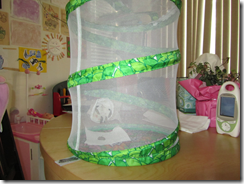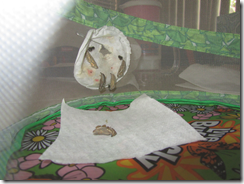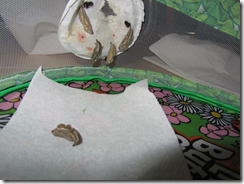 Here are the caterpillars starting to come out!