It is currently 42 degrees outside our house. Tonight's overnight low is suppose to be 38 degrees. This is what I would call beyond cold. But at least we're inside our warmer house. 67 degrees is nice for me, but still bundle up weather for Yvonne. We haven't been in this type of cold since… well… since our camping trip in October.
The thing about our camping trip though is that we were sleeping in tents where the cold didn't want to stay outside. The overnight low was 45 degrees, which meant it was 45 degrees in our tent. Let's just say that our children weren't used to the temperature with their year round temperature controlled house. In fact the thermostat is in Caleb's room so he's always sleeping in perfect temperature.
Our tent… not the place for perfect temperature. Look at this thermometer.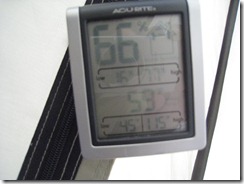 That's a low of 45 in our tent.  And a high of 115!
We got to Santa Margarita Lake campground on Friday.  Lacking the perfect temperature Caleb was used to, he got very little sleep that first night.  He kept tossing and turning.  And talking and moving.  So much so that he only got just over 3 hours of sleep that night.  45 degrees might be a little to cold for a boy who's used to perfect temperature in his room.  Caris didn't sleep well either, but she just slept on me the whole keep and I kept her warm.  Here's how they looked in the morning.
Caleb was not in a good mood that morning.  We hoped he would get a good nap at least in the afternoon.  Not quite.  With the sun blazing down upon our tent, the temperatures soared inside.  Again Caleb normally sleeps in that perfect temperature room with barely any light.  Here at camp, he had the bright sun shining on top, heating up the tent.  After 40 minutes of sleep, he awakes to the bright lights and hot tent.  The temperature is about 90 degrees.  Good thing he woke up.  He might have died in the 115 degree tent.
We had thought we dressed our children warmly the first night, but these kids don't know what cold really was.  And neither did we.  To combat the immense chill of the night, we decided dress our children in every single warm piece of clothing we had.  Both of them must have at least 8 layers on them.  Rebecca Chan can attest to that.
It doesn't seem like a lot, but I think he was sweating under those clothes.  Maybe he's warm enough, and maybe he's gotten comfortable with our tent.  But finally he sleeps.
Caris is still cold, but she loves Daddy holding her and keeping her warm.  Caleb gets a good night sleep, and they look much better in the morning.
Notes for next camping trip:
Find someplace close
Find someplace not freezing
Find someplace not scorching