ok, ok… so our son is nearing his 10 month birthday and we have yet to blog on his 9 month one. we're a little behind with our blogging. we're a little behind with everything!
At his 9 month checkup, we discovered that our son is no longer this huge baby anymore. Always in the 90-100th percentile, he is now in the 50-75th percentile in everything. Hmm, am I starving my baby? Strange thing is that Chris and I get different measurements than Caleb's doc. Our scale told us that he was 22.5 pounds, and we measured him at 29.5 inches. Oh well. We know our munchkin is a healthy, active baby.
Length = 28.25 (50 percentile)
Weight = 20 lb, 14.5oz (60 percentile)
Head Circumference = 45.5 cm (50-75%)
Grandma & grandpa bought Caleb his first ride-on toy. Caleb loves it!
Caleb's crib now looks like a white prison. Since he started crawling, we've had to remove the bumper from his crib leaving it completely bare. Good thing, though… cuz Caleb loves to stand and climb. He climbs onto our bedside tables already. He pulls out his dresser drawers and tries to climb them. He pushes boxes and get on top of them to reach things on higher shelves. Where did he learn to do all this from?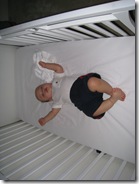 Caleb is looking more and more like his daddy. Both of them are so adorable!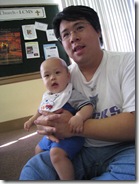 Caleb still loves his music class, but now he's more active and can stand and hit the drums hard.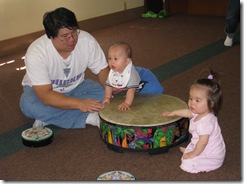 Awh, Caleb had his first (and hopefully) last allergic reaction. We tried out a new rice cereal, not thinking that there would be any problem. Within 5 minutes of having it, he started getting unusually cranky and his face turned red. Then his eyes and face got puffy and itchy (see picture below). It was pretty scary. But our newlywed fellowship was there and prayed for him. He got drastically better within a couple hours without any need for a visit to the ER or for medications. Praise God!!!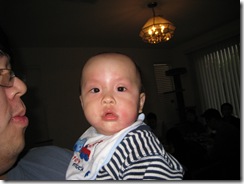 Pupu (mommy's mom) visited Caleb at the end of March. I had so much fun with her.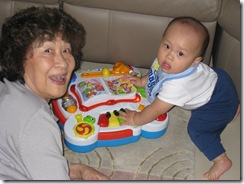 Caleb now occasionally can fall asleep at church for a short morning nap. This is far better than the hour or more of wailing he used to do when we took him to church.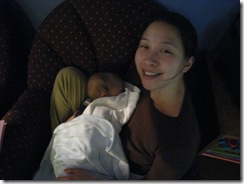 Caleb is usually much better when we go out to eat now. He loves menus… maybe more than mommy and daddy.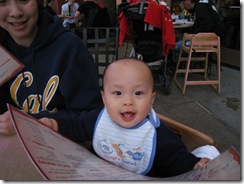 Caleb's 1st time on a playground swing.