Almost every Easter, our church organizes a hike.  But dragging along three kids 3 years and under, you tend not to make it to an 8am meet-up time.  We went up to Eaton Canyon Park anyways.
We decide to get some McDonalds for breakfast and eat there.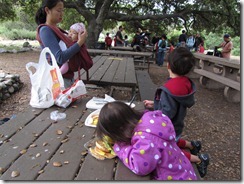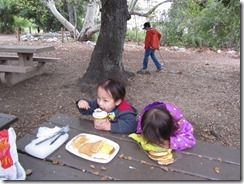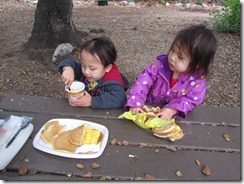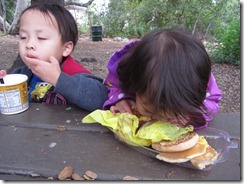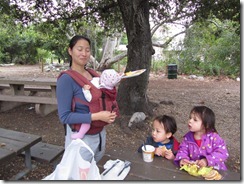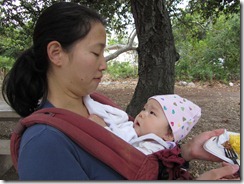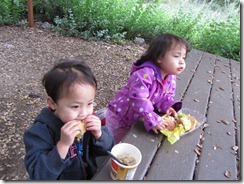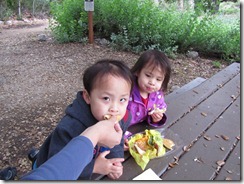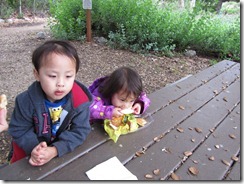 And no, I don't know why Caris is eating like that.
In the visitor's center, there were some animals in glass cases.  There were two animals that had food in their cages; the tarantula and the garter snake.  Although I hate spiders and snakes, I had to keep my open in case one decided to go after some food, a cricket for the tarantula and some fish for the snake.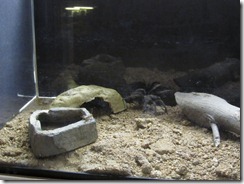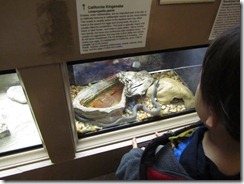 The tarantula got my hopes up, but I guess it wasn't hungry.
The best part about the visitor's center was the glass case with the stuffed animals and their fake poop.
Now on to the hike.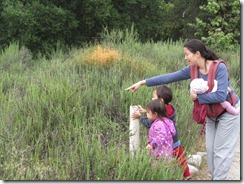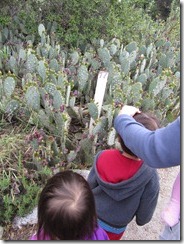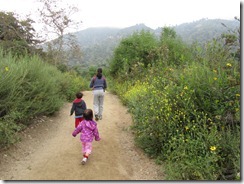 There's a stream crossing at Eaton Canyon Park.  Last time we were here, the creek was dry.  This time, not so much.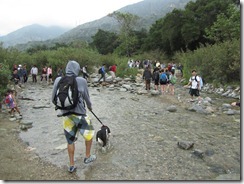 I have a bad history with stream crossings.  The first backpacking trip Yvonne took me on (this was before kids) was suppose to be an easy one.  It was only suppose to be a three mile (6 miles round-trip) hike.  Three miles to the campground, we'll stay one night, and then go back home.  Easy, right?  Well it would have been easy if they didn't lie about the distance and didn't have the 26 stream crossings we had to cross.  So after that, I haven't been very fond of stream crossings.
Of course Caleb wants to cross the stream, and Mommy was readily willing to go.  So off we go crossing the water.  I wish I could have taken a picture or video of us crossing.  I was carrying Caris.  Yvonne had Chloe in the Ergo, and was holding Caleb's hand behind her as they crossed together.  Caleb almost made it unscathed until she lost her balance a little at the end.  While Yvonne was trying to steady herself, Caleb took a little step in the water.  He didn't seem to mind.
Daddy and Caris, amazingly enough, made it dry.
Here's us on the other side.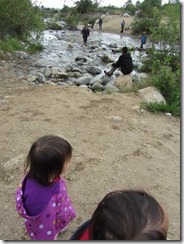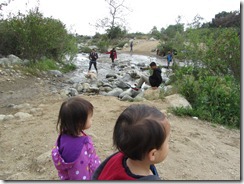 We decided that it would have been easier to carry Caleb across, but it's kind of hard when the kids outnumber the adults.  This friendly man offered to take Caleb.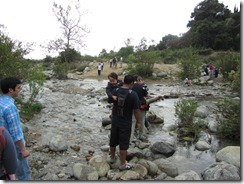 After some hard work this morning hiking, the kids need to use the potty.   Caleb left this present.