We went out on our second date since Caleb has been born… Well, our 2nd date without the baby. It was part of Chris' Father's Day celebration. We went to Ruth Chris… compliments of a gift card given to us by a friend.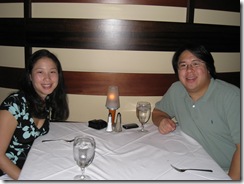 It was nice going out, but I felt completely out of place. Me dressed up when I'm normally in sweats and a tank top nowadays. I feel strange without a baby clinging to my legs or attached to my left hip.
Caleb's been sleeping so poorly for a while now, but even worse for this past couple of weeks. (We'll blog more on this later). Grandma was babysitting Caleb so that we could go on our date. I warned her before we left that Caleb has been waking up multiple times in the night even at the very beginning…. and he cries hard. Whatever you do, don't turn on the lights or talk to him. It's an invitation to play. And he gets much harder to put to sleep. Haha. As I was walking up the stairs after we got home from our date at 9:30PM, I saw Caleb's bedroom lights on and I could hear chatting (grandpa had come over to eat dinner with grandma). What?!!! Lights, talking?! What's going on? I walk into the room to find Caleb bouncing up and down on his air filter, with a couple toys strewn around the room. Grandma and grandpa are chilling in his room like it's their new living room. Hee-hee. Caleb cried hard, grandma couldn't handle it. On came the lights. And naturally, the talking and playing came next.
Chris took a short video clip of Caleb playing. He was soooo hyper. The video clip really doesn't do justice to how hyper he was.
Chris commented, "I've never seen this boy so hyper before." And believe me, we've seen him very active. As I was trying to calm him back down into a slumber, he was jumping from my arms, crawling/walking from one piece of furniture to another. Finally, I got him to nurse (cuz he hit his head hard on the crib edge). In my arms, he reminded me of this crack drug baby I once held in the hospital. He was so jumpy & shaky. Yes, this is our son when he doesn't get enough sleep. My goodness. We were surprised that it only took us 30 or so minutes to get him back to sleep. Good thing he was so tired. God, You're merciful. Thank you for not making us stay up for hours with this boy.