Caleb is still adjusting to his new baby sister.  He really is trying.  He's watching and learning…. maybe a bit too much.  Caleb sees Mommy burping Caris.  Caleb tries too… only Caleb can be a little rough with his burping technique.  Caleb sees Mommy wiping Caris' mouth after being nursed.  Caleb goes up to Caris and tries to do this too.  Oh dear.  Caleb, your sister doesn't want her whole face covered with the spit cloth.  Caleb sees Mommy rocking the car seat back and forth to settle Caris.  Caleb tries to… You can already picture it, right?  So, yes… my helpful big boy scares this Mommy when he's around baby Caris. 
We bought Caleb a baby doll.  Someone gave us the idea that, if we could teach Caleb to be gentle with the doll, then he could be gentle with Caris.  Not so.  Then, we thought… maybe Mommy could hand Caleb the doll when he gets jealous that Caris is nursing.  So, instead of trying to pull Caris out of Mommy's arms, Caleb could hold a "baby" of his own.  That didn't work either.  Well, I guess Caris now has her first doll.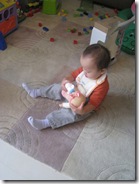 Caris, enjoy those rare moments when your brother leaves you alone.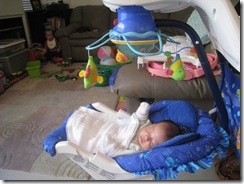 This may be a tough transition time for Caleb, but he's still going strong with learning & playing.  He's still our innovative boy.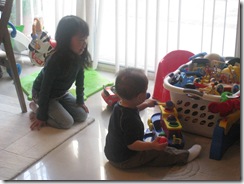 (Caleb knows his colors and shapes… lots of them at least.)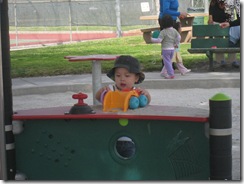 (Caleb loves playing in the sand.)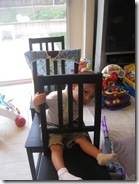 (Yes, Caleb put those chairs together himself, climbed up, smiled at me, and said, "Oo, oo"… aka Choo-choo as in a choo-choo train.)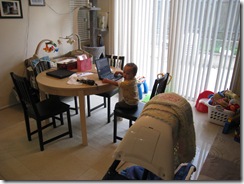 (Caleb got up onto the chair all by himself, pulled the laptop to the edge of the table, and figured out how to open it.)
And with age, Caleb has become even more of a risk-taker.  He loves to jump off of things like the couch.  He still likes to climb everything.  And his falls seem to be getting bigger as he gets older.
Here are some pictures after he fell right after his Gymboree class this past Tuesday.  Caleb's first "fat lip."  He split his lip open and was bleeding everywhere.  It looked far worse than what it really was.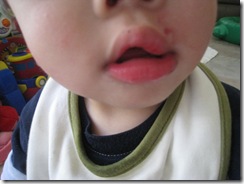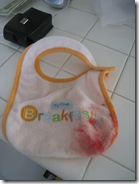 But as always, our son recovers quickly.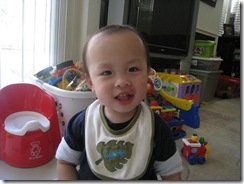 Soon, we'll be celebrating Caleb's 2nd birthday.  Can you believe it?