I like to sit on stairs.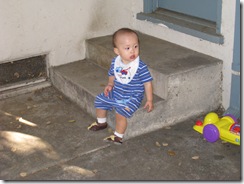 I still like to eat. Aren't I a cutie?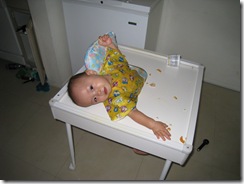 I love reading, and I love my cat Tommy.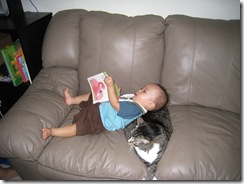 I still love stacking… only higher now. And, I like dumping things out for mommy to clean up again. Sometimes I'll actually put away my toys myself.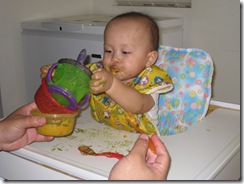 I love to imitate mommy. She cleans, I clean (at least I try).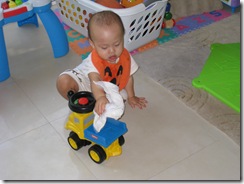 I have a new pair of shoes. Well, grandma & grandpa bought them for me over a month ago. These Stride Rite shoes are more expensive than any shoes mommy has ever bought (except for her rockclimbing or hiking shoes). I didn't like these shoes before. They made me trip and fall. This is a video of me trying on my 1st pair of shoes again a few days ago. I like them much better now.
I still love music. I used to dance by bouncing my butt up and down. Now, I twirl/spin.
I've got 11 or more teeth now. I got 3 molars in right after I turned one. 1 more waiting to pop out on the bottom left jaw. My canines are coming out too. Soon (maybe), I'll have 16 teeth. Almost done with getting all my baby teeth, and I'm not even 13 months old!