On Saturday, we went to Travel Town Museum. It was Caris and my first time, but Chris & Caleb have been there before for a "daddy/son day." We had lots of fun climbing up to see the insides of trains.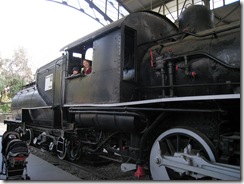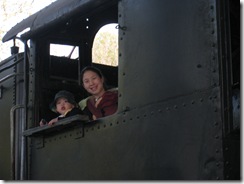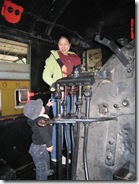 We're not sure exactly when this happened, but at some point, our son had a huge tear down the left back side of his pants. He was wearing a dark blue onesie, so the tear wasn't as obvious as it would have been if a white diaper was showing.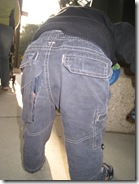 On our way home from Travel Town, Caris started crying. She was hungry. We had cut it pretty close to her feeding time. The freeway was trafficky, so we decided to pull off and feed her. I nurse Caris. Chris chases Caleb around the car. About 30 minutes later, both kiddos are strapped in their car seats again and we're on our way. Caris starts crying again. This time it's a "I feel uncomfortable from too much gas and I need to spit-up" cry. Caleb hates it when Caris cries. And even more, I think he hates the attention Caris gets from us as we try to verbally soothe her from our front seats. So, Caleb starts mimicking her cry, but only louder. Caris gets even more upset with Caleb crying too. 2 crying kids in a car is no fun. My maternal hormones are going crazy. But the funny thing is that, as much as the crying was bothering me, it must have been bothering Chris just as much. My normally calm-driving husband was now gripping the steering wheel and speeding up to try to get home faster. I couldn't help but bust out laughing. I guess there are paternal hormones too???