So, we're better today.  I was a bit worried about Caris last night.  She was hungry, but cried every time she tried to latch on to nurse.  Her mouth was hurting from all her sores.  She kept crying throughout the night, but Chris did a great job calming her down.  When morning came, Caris finally had a pretty good feeding… then a wet diaper.  Yay!  She fed again 2 hours later before she saw the doctor.  She has at least 10 sores on her throat and heaps of them on her tongue.  Poor Caris.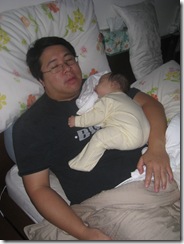 (Chris finally getting a chance to sleep.)
I saw the doctor today too.  It's my first time seeing a doctor for "sick" reasons in years.  I've never met my doctor on this insurance, and I need updated lab work done anyways.  She looked in my mouth and was amazed at how many sores I had.  She noted that I must have at least 50-60 lesions in my mouth and throat.  This definitely hurts.  So far, cheese and almond milk are friends of this lesion-ridden mouth.  Hee-hee, I have lesions elsewhere too…. palms of my hands, the soles of my feet, etc.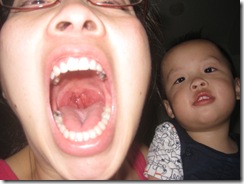 (OK, so we couldn't really get a good picture of these strange sores.  Oh well.  This is really not a very flattering picture.  Another oh well.)
Caleb's doing better.  Still has mouth/throat sores, but able to eat & drink.  But, big brother is jealous of baby sister Caris getting so much attention now.  He does not like watching mommy try to nurse her so frequently…. or daddy holding her so much trying to soothe her.  *sigh*
So far, Chris is doing well.  Praise God.  Pray for him to figure out how to get all his work done in a timely manner.  He had to stay home to help me today.  We leave for General Council in 5 days.  Chris has deadlines at work he has to complete before we go.  Hard for him to keep up with work when he has to take care of the 3 of us.
Thanks for praying for us!