Happy 31st birthday, Yvonne!  Yes, her real name.
A day late, and a dollar short, but it's still here.  Yvonne's birthday gift was a break from the kiddos.  At the day spa of course.  I think getting away from the kids might have been enough, but I might as well send her away to something she'll enjoy as well.
While she was over there, Caleb, Caris & I were scheming things at home.  A surprise for when Mommy comes back.
Here's the setup.  Letters.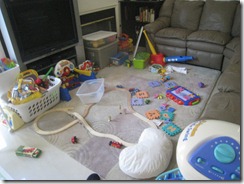 If you're interested in watching a 11+ minute video, here it is of me and Caleb finishing up the rest.
(Video coming soon after it finishes uploading.  Only 4+ hours.  I need FiOS)
Here's the finished product.