We just spent the last 3 days on the Big Island with Bel, Stan, & baby Noah. Here are some highlights and funny moments.
We explored a lava tube and lots of lava rocks. The volcano here is currently active, so we were trying to go visit the site where you can see lava going into the ocean. Well, let's just say the boys were navigating and we found ourselves at a totally different spot. But I must say, where we went was nice too… and probably heaps safer for the babies. We saw the area of the last most recent lava activity (about 5 years ago). Caleb was so fussy after not getting any naps and being in a car all day. He wouldn't be soothed in our arms. Finally I had to nurse him while we walked to the lava site. It was like carrying a sack of potatoes on a hike. And, baby Caleb decided to have another poop explosion… this time all over mommy's shirt and pants and the Ergo baby carrier. It was quite impressive.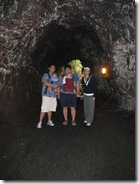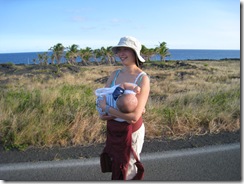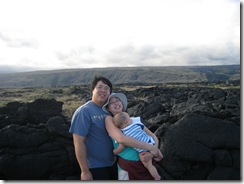 On our trip, Caleb found himself a new toy… baby Noah who lays there like non-moving target. Poor Noah. Just wait 'til Noah can roll and crawl well. He'll be chasing after you, Caleb.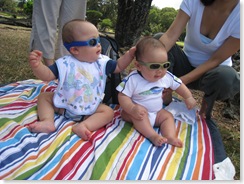 Caleb fell asleep on the beach. I put him down in his tent… and he stayed asleep!!! well, it was for only 25 minutes, but it's a first for him to go to sleep with lights and sounds without much of a fight.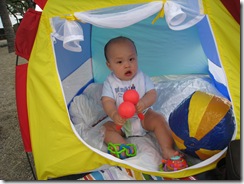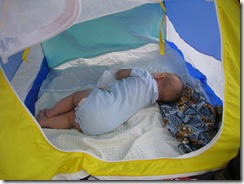 We wanted to visit a macadamia nut farm. Stan found one on the internet. We went there and found this house on a farm. Very interesting. Nobody else was there. We got a nice personal tour of the mac nut trees, kona coffee beans, & avocado & banana trees. We learned that bananas were originally eaten on the Island by only males. Females would be killed if they ate this food associated with male fertility. We found big spiders there. Chris liked them a lot! He wanted to take one home with us.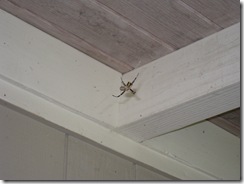 Chris looks mighty cute taking care of 2 munchkins.